Welcome to the party! Wow, I have never put together a post this fast. We had to make an unexpected and quick trip to Missouri this weekend. Eight hour drive each way makes for a very long and tiring weekend. I wasn't sure what kind of internet connection I would have, so I wanted to get this ready before we left.
There were so many awesome features for The Pick of the Bunch, that I will get those posted late Sunday afternoon.
Have a fantastic weekend, and thank you so much for stopping by!
Last Week's Most Viewed Posts:
Urban Patina shared her beautiful duck egg blue dresser makeover.
Lynda Bergman shared this gorgeous mantel she painted to look old and distressed.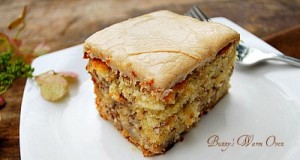 Bunny's Warm Oven shared this Banana Pecan Cake with Caramel Icing! YUM!
Walking on Sunshine shared this delicious Tomato Zucchini Tart.
Congratulations to the top views this week! Thank you so much for partying with us last week. You can grab a featured button here!
Don't forget to link up to these great parties this week!