Hi, friends! Today I am sharing my Dollar Store wreath plus my live Black Friday wreath special. I have been wanting to make four wreaths for the windows across the back of my living room, and I was so excited to find $5.00 live wreaths at Lowe's this week. I also had made a trip to the Dollar Tree earlier in the week, and gathered up a bunch of goodies to use this Christmas.
Since I needed four wreaths, I went for the quick and easy way to make them. This wreath can be made in no time at all! My favorite kind of project!!
Here is photo of the the supplies I used, minus the Christmas tree. I was going to add it to the center, but decided to go with the reindeer instead.
I love glue dots! Since I will be taking these wreaths apart after the holidays, I just used Elmer's Glue Dots to hold the ornaments in place.
Here is what my wreath look liked before I started. I will say, I had to dig through the huge crate to find 4 wreaths that uniform. Once they dried out a little, they really perked up.
First, I looped the ornaments on the chain through the wreath, and then went back and attached them with the glue dots.
The white poinsettia had little clips on them which made it so easy to attach. I am regretting not buying more of these! I love them.
I stuck the reindeer in the branches, and then used a glue dot at the corner of the antler to hold it in place. I do plan on adding a larger bow. I am still looking for all of my Christmas ribbon. This one will do for now. In less than 15 minutes, this little wreath was complete.
I am so thrilled to be joining the Sharing is Caring Blog Hop again this year.
This post is part of the Sharing is Caring Christmas Blog Hop hosted by
Life With Lovebugs
,
Powerful Mothering
and
Pam's Party & Practical Tips
!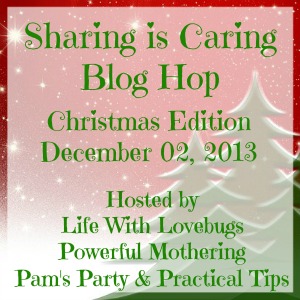 Check out all of the great blogs participating in sharing their Christmas themed post!
Thank you so much for stopping by! I hope you have a wonderful week!