Wow, there have been so many awesome ideas at the past two parties, that I decided to combine some of the best in a huge Christmas feature! I am sure you will find lots to inspire you for the holiday season with this great ideas and projects! I've tried to include a little bit of everything.
Christmas Signs and Home Decor Inspiration:
Beachwood Place shared a great idea for making this awesome chalkboard Christmas art!
I love this gorgeous pallet board centerpiece by The Interior Frugalista.
I love this scrapbook paper ornament picture by Polka Dots and Paisley.
Just a Little Creativity shared this cute Happy Holidays sign using stickers.
Christmas Tree Inspiration:
Sweet Pepper Rose has made some awesome things with these Paulownia seeds, but I do believe this is my favorite project yet!
I love these fabric Christmas trees by Craft Dictator!
Wilker Do's made this great wooden tree! I love it!
Robyn's View created these gorgeous Dollar Tree glitter trees! I can't believe I missed these at the Dollar Tree! I love them!
Oh, I love this layered Christmas tree slat sign from Summer Scraps! So pretty!
Musings of a Vintage Junkie shared this beautiful rustic farmhouse tree.
Fort Ledbetter shared these super creative caulk Christmas trees!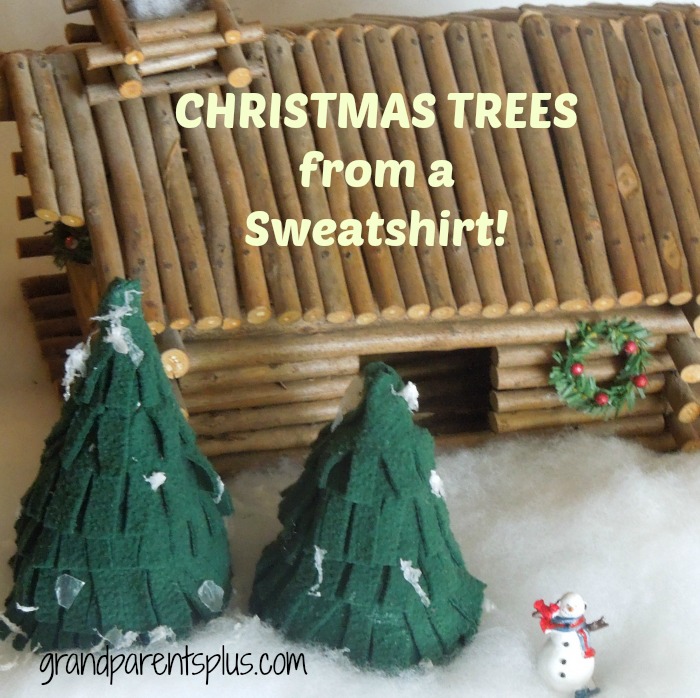 Grandparent's Plus shared a great tutorial to make these cute little trees from a sweatshirt!
A Spoonful of Crafts decorated a large pine cone with miniature ornaments! How cute is this?
Purple Hues and Me shared her tutorial for creating this gorgeous snowflake tree skirt. Always so creative and amazing!
I am loving this pallet Christmas tree stand by Scrapality!
Denise..on a whim shared a jello mold and tinsel tree. What a great idea for a tree stand!
Stocking Inspiration & Garland:
So Sew Easy shared her guest post, Naptime Crafters, fantastic tutorial for making stockings!
Exquisitely Unremarkable created this adorable Advent goody bag garland.
Crafty Cucumber created this beautiful crocheted star garland!
Ornament Inspiration:
How cute is this jello mold tart ornament by The Thrifty Rebel? What a great idea!
DIY Beaded Ornaments by Purple Hues and Me.
The Pin Junkie shared this adorable felt Santa ornament.
Posed Perfection shared a gorgeous newlywed keepsake ornament!
FitzBirch Crafts created these wool winder ornaments.
Hot Flash'n and Craft'n made this adorable craft stick elf ornament. I love the name of her blog!
On a Wing and a Prayer shared on of my favorite ornaments...Cinnamon!
Julie's Lifestyle shared these cute ornaments made from shells.
Gorgeous Wreath Inspiration:
Check out this beautiful DIY icy winter wreath made by Sweet Inspirations!
Vintage, Paint and more... shared 4 great DIY Christmas wreaths.
Awesome Gifts and Gift Wrap Inspiration:
One Little Project created these oh so cute Sharpie mustache mugs. What a great gift idea!
A Little Bit of Everything crocheted these adorable hats and scarves for your gift giving.
My Heart Lives Here shared some cute Christmas pillow covers!
3 Boys and a Dog made this Itty Bitty Building Set for kids. Such a cute idea!
Melissa Kaylene got extra crafty with these beautiful gift wrapped packages using gum! I love it!
This gorgeous card by Paper Seedlings would make a beautiful gift itself! So pretty!
Plucky's Second Thought made these adorable little Christmas Mason Jars.
New Mama Diaries shared these cute free printable stickers.
Thank you so much for sharing all of the awesome and amazing projects! If you were featured, you can grab a feature button here!