Hi, friends! I am so excited to be participating in another Sharing Is Caring Blog Hop with my friends! We are so excited to be sharing our Mother's Day Edition. When I was trying to decide what to make for my mother for her very special day, I knew it had to be something for her to organize all of her endless favorite magazine and newspaper clippings for recipes, DIY, home decor, etc. Every time I am at her house she is trying to find that latest recipe or picture she wants to share with me. So I got busy and put together a way for her to organize her mounds of favorite clippings.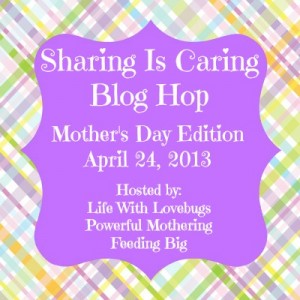 This post is part of the Sharing is Caring Mother's Day Blog Hop hosted by Life With Lovebugs, Powerful Mothering and Feeding Big!
Mother's Day Gift Part One
Today I am sharing Part One to keep the post from being so long! Tomorrow, I will share how I decorated the outside of the binder. Here is the binder covered in batting and fabric.
I started out with a large binder that will hold a lot of pages.
The first step was to hot glue batting to the outside of the binder.
I cut the fabric wider than the binder to glue to the inside. Oops, my fabric was slightly crooked, but it will be covered. That will be our little secret! :)
I cut a slit in the fabric where the binder bends, and glued it underneath the metal.
I covered the inside of the binder using a heavy cardboard gift box, and then covered it with fabric.
I used my glue gun to glue down the edges of the fabric to the cardboard, and then glued it to the binder.
Here is the inside of the binder with the fabric in place.
I purchased some plastic dividers to divide in sections.
I picked up some scrapbook letters at Hobby Lobby to use for the labels.
Here are the labels that I made using the scrapbook letters. It was a challenge to find short 4 letter words to fit on the labels.
I also added lots of pocket holders to hold small recipe clippings or short articles in each section.
I was so excited to find this fabric at Hobby Lobby! It goes so well with the curtains in my parent's home. I have enough of the fabric left to makeover a tray to match her new organizer. Stay tuned for Part Two of the organizer! Thank you so much for stopping by. Be sure and hop on over to these awesome blogs to see all the wonderful Mother's Day inspiration and ideas.